My experience is that the best way to compete if you are over 50 years old (I am 70 and contracting almost all the time) is to work as a Contractor and not as a "permanent" employee.
Although networking is best, most go through a contracting firm – depending on your area of expertise: examples are
Accountemps
Dice.com; COMSYS, etc for the computer savvy
Careerbuilder, Monster, others for clerical, engineering, legal, etc.
And there is a new one with focus on remote (work from home) and part-time assignments
The placement firms and the hiring managers do not care as much about age for Contractors – they care whether we can walk in and get the job done starting about the first minute on the job!   This is in contrast with a "perm" hire that they train to be productive after several weeks or months – so here we have an advantage if we have marketable skills!
Even short-term Contracts are worthwhile – many are extended for longer term and all build our resume as Contractors.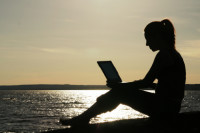 Also – if we wait until we can claim full SS retirement – at about age 66 or so depending on birth date – Income does NOT reduce Social Security income no matter how much we earn
We say Go For It – and also look aggressively for Plan B – other sources of income like those shown here on Retirement Income Blog.