If You Knew Your Escape Abroad Could Pay for Itself—
Starting Now—Why Would You Wait?
You Can Turn Any Home Abroad or in the US into a Cash Machine… with these Senior Market Opportunities for Retirement Income
So You Can Afford an Escape all Your Own—
Well before You Retire…or After
If you like the idea of an escape where you could really relax with family and friends… kick back and enjoy yourself… eat out at great restaurants… take up painting… or sailing… finally learn how to use that camera… just savor life…
If you've always dreamed of having a place all your own "someday"… a place you feel at home, where you could get to know your neighbors… be part of the community… and come back to any time you got the urge…
Then why wait?
With the right approach, the right know-how… you could take your "someday in the future" overseas dream and make it your reality—a lot sooner than you probably imagine…
Because done right, your escape could actually make you money —cash in your pocket, month in and month out.
You gain all the benefits of your own private retreat… fixed up the way you like it… in a place you love… only you essentially use "other people's money" to pay for it.
Gain All the Benefits of Your Own Private Hideaway…
While Other People Pay for It!
Take Nancy Henning and her husband Patrick, from Ohio. They aren't wealthy. And they aren't ready to retire yet.
But they love to travel. And they'd always dreamed of having an escape overseas "someday."
Recently, they found a way to "fast forward" that timeline… so they could start enjoying a more international life sooner rather than later… no huge nest egg required.
It all started with a family vacation. They fell in love with a little stretch of Pacific coast they didn't want to leave—the waves and wildlife out the back door, the nearly empty beach, the sunsets from the balcony, the waterfront restaurants in the nearby village…
It was exactly what they were after… the "retirement dream" they'd always had in the back of their minds.
So they found a way to offset the costs and start enjoying their retirement home right now—well before they're retired.
Today they're able to escape to their beach home four weeks a year. They've made friends with their neighbors. Their kids are learning Spanish. And when they're not there enjoying the sun and the sand… they're cashing in, using their home to generate more than enough income to cover their holding costs.
It Works Anywhere in the World
You could do it, too… no matter what age you are or where in the world your dream takes you. It's something that can work anywhere on the planet… from Ecuador to Fiji to Italy…
In Costa Rica, for instance, Alan Morton put his dream on fast forward. He wasn't ready to retire, but he'd been itching for an escape and didn't want to wait to get it.
So he bought a lot and built a lovely three-bedroom, three-bath house on it. It has its own pool and landscaped gardens. Up high, it catches sea breezes and he has a view out to the ocean in the distance.
But because he wasn't ready to live there full-time, he turned his retreat into a virtual ATM, earning income when he's not there. In one year alone, he banked more than $80,000. He spent $255,000 on the property, all told. But at this rate of return, in just over three years his investment will be paid off in full… and then some.
Subtract the modest ongoing costs for things like upkeep, gardener, maid, taxes (all much, much less than you'd pay in the States)… and the rest of the income is pure gravy.
He can cash in—and not just with funds…
Now he can head down to his own picture-perfect retreat in Costa Rica whenever the urge strikes… meet up with friends, surf, enjoy the beach, relax (and no hotel costs!)…
When he's not there, the place functions as a cash machine, essentially, earning him income that more than covers his holding costs…
Maybe eventually he'll retire there full-time… or simply opt to keep visiting a few weeks or months a year… whatever suits him.
A Special Formula Maximizes Your Earnings
It's a way you can make your overseas home not just pay for itself… but actually earn you an income—often a very nice one—when you're not there enjoying it.
I don't mean long-term rental. And, in fact, I'm not talking about a standard-issue vacation rental either.
The House Costs Us
Nothing to Own"I bought the lot in Nicaragua first—paying less for this piece of property than I did for my car. Then we built a 3,000-square-foot gem on it with a separate guest house and pool. We use it a few times a year. The kids use it. Sometimes friends go down and stay."The value of the house has more than doubled… it went up even during the crash.

"Now we're making more than $500 a night renting it out. Thus the house, including full-time maintenance, a housekeeper, taxes, management fees etc. is entirely paid for by the rental income… it costs us nothing to own."

–M. Ford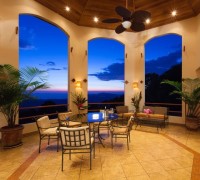 What I'm referring to (and I'll tell you more about how it works in a minute) is a special "formula" that allows you to easily and directly maximize the income your home can generate… to the tune of $20,000… $30,000… even $60,000 or more a year.
It's a formula you can begin to apply before or after you buy a place overseas—so you're confident your property is well-suited to earn maximum income.
It can work with a beach house… a little mountain retreat… even a high-ceilinged apartment in a city like Montevideo or Rome. Whatever suits you…
When you keep your own retreat overseas with this special formula in mind—not only does it give you an escape you can enjoy with family and friends whenever you want to head abroad, but you can go well beyond covering the costs of ownership… and actually pocket a profit.
Ultimately, it means you could embrace a more international life… years, even decades before you're retired… and have a home abroad that earns for you well into your golden years.
At a time when most folks are fretting about how they'll retire comfortably, you could have an income stream that pays you to spend time in a destination overseas that you love.
Do It Right… and You'll Put Your
Retirement Dream on Fast Forward
Why should you wait to enjoy a more international life—when this time next year your dream retreat could be yours? And it could be paying for itself…
I'm Always Surprised at How Much People Will Pay
"I'm very pleased I own my place in Fiji. It's been a profitable, fun experience. I get to communicate with happy people from all over the planet—and they pay me! I'm always surprised at how much they are willing to spend, because I am such a bargain hunter. Fortunately, not everyone is like me."
–Beth Carson
These days, it's easier than ever to make money with a vacation rental.
Competition can be scarce in other countries. In Orlando, Florida, one vacation-rental portal lists more than 1,000 properties. But at Coronado Beach in Panama, for instance, only 13 come up.  Yet plenty of visitors to Panama are looking for a vacation-rental experience. Low inventory, high demand. If you're one of those owners, you're in a good position.
Studies show that travelers who stay in vacation rentals travel more often and are more likely to travel internationally. They also spend more money than the average traveler.
Online today you can tap into a community of eager travelers from all over the world. With the right tools in hand—and the know-how to use them effectively—you can reach an incredibly wide audience of potential renters. (And not just "any" renters, but the best kind: the kind who will pay you more!)
When you talk to them in just the right way… and you create for them a travel experience that's just right… these vacationers will effectively fund your overseas retreat.
This is one of the best ways I know to put your retirement abroad on fast forward. Consider that in the right markets, you'll likely pay less for your overseas escape today than you will in the years to come.
So in addition to rental income—and the fact that you can enjoy relaxing at your retreat anytime you want to go—you can also benefit from appreciation gains.
Eventually, you might settle into your hideaway full-time… or it could keep earning you an income into your golden years.
As Gloria Porter, who owns a beautiful home in Mexico's colonial highlands, put it, "I bought this house because I love Guanajuato. Like many folks who are part-time, I'd like to spend MORE time there eventually but can't right now.
"So in the meantime I rent it out to cover the expenses and earn me some income. I'm pleased that I own it. A place you own simply 'feels' different to you than a place you rent. Property taxes are low in Mexico, so the house more than pays for itself."
You could do exactly what Gloria is doing… in any place you'd like to go. Ecuador… Ireland… Costa Rica… Spain… New Zealand… Panama… Belize… France… Uruguay… Italy… anywhere your heart desires…
While other people scrimp and save and "hope for the best" in retirement… you could feel confident that you'll have your own bolt hole in a paradise you love… a place that pays for itself. A place that's safe and beautiful where you can live affordably, relax, enjoy life, make friends, and become part of the community.
Plus that's not all…
Use Your Vacation Rental to Stay Free All Over the World
Rent in High Season Covers the Year's Costs
"My home in La Barra, Uruguay, near Punta del Este, is my refuge. It's in a beautiful beachfront community, so I lease it during the local South American summer high season from Christmas through February. This generates enough income to pay for the carrying costs of the property for the rest of the year, and even provides for a modest return on my investment. I regularly lease the house to a family from Buenos Aires every January, and to a Brazilian family in February. Then, I visit the house in March and invite friends to come down. The Argentinian renters have offered to buy the house, but my friends who have visited love the place so much that they have 'forbidden' me to ever sell!"
–Jay Mlinar
Turn Your Primary Residence into a Rental…
and Fund Your Good Life Overseas
This brings me to another point I want to make. Maybe it's a little off-topic since we're talking about international vacation rentals here—but I think it's worth noting.
Really, it's just another, related way you can use a home to fund your international life.
This idea of renting to vacationers short-term for income… it's something you could easily do with your house "back home," too. Not just with a place overseas.
Short-term vacation rentals are different from long-term rentals in one important way: They earn you a lot more.  Rent your home Stateside out with a year's lease, and you might get the equivalent of $20 or $30 or $50 a night for it.
But rent it as a vacation rental —applying the special "formula" I mentioned earlier—and all of a sudden you're looking at "hotel prices"… more like $100, $150, $300 or even more a night.
Generate that sort of income from your primary residence, and you could easily use it to bankroll a few weeks or months a year overseas…
The income opportunity with vacation rentals is there, no question. And it's money you can make in markets literally all over the world.
One International Living reader I know, Shauna Brennan, has a home in Panama near the beach, a place in Medellin, Colombia, a property in Florida, and a few in her native Canada, too. They each throw off income as short-term vacation rentals.
And she's able to fund a truly international, travel-filled life this way. She vacations when she feels like it, traveling from one property to another. The management, she says, she can do remotely, online. So it doesn't matter where she is… the income still rolls in.
Another vacation-rental owner with multiple properties said much the same thing.
Sandra Teal and her husband are able to bankroll a flexible, laid-back life, funded by a collection of short-term vacation rentals. She has time to spend with her kids. She earns twice as much as she did working as a family therapist 50 hours a week. And there's far less stress!
"The income is residual so it will be our retirement in years to come with very little effort and risk of a market crash.  We travel all over the world as a family staying as long as we like in any given place.  We have the luxury of time as we do not have to go to a 9-to-5 job on a daily basis."
Get the Secrets You Need to Make Your Property Pay… and Pay Well
Here's How It Can Work
Say you bought a condo at a beach overseas for $100,000. Your monthly expenses might break down this way (these are the basics):
| | |
| --- | --- |
| Mortgage | $1,000 |
| Condo fees | $150 |
| Electricity | $50 |
| Water | $25 |
| Marketing | $25 |
| TOTAL | $1,300 |
If you rented your place out for $120 a night, you'd break even with just 11 nights' rent per month. Anything beyond that would be pure gravy.
With the special "formula" I'm talking about here, though, you'll have the secrets you need to keep your place rented well beyond those 11 nights. (The expert you'll meet in a minute has kept an 85% occupancy rate at her beach place for the last six years. And she'll show you how she does it.)
For the sake of argument, say you rented this condo out at that same rate—85% occupancy. Back out the monthly expenses, and you'd net $21,600 a year.
Or more. Using the special "formula," you'll have the secrets you need to charge an even higher rate. And that could mean extra income in your pocket.
Your timing is excellent right now. We're seeing a trend in travelers choosing vacation rentals instead of hotels… and it's easier than ever to tap into this market.
However, it's important to "get it right" when you do.
Because—I have to say it: Most vacation-home owners leave A LOT of money on the table. In fact, statistics show that vacation homes are rented out, on average, just 17 weeks a year.
(By contrast, the vacation-rental expert I'm going to introduce you to here… her place in Fiji is rented out—and earning income—44 weeks a year! She's had an 85% occupancy rate for the last six years in a row.)
Typical owners make silly mistakes. They miss opportunities because they don't know to look for them.
They spend time and money where they don't need to and neglect quick, easy things they can do for free or next-to-nothing that make a big difference in how much their homes rent for and how often they're rented.
My point is: There's a right way… a smart way… to go about finding, managing, and earning with your overseas vacation rental.
And I'd like to make sure you know what it is.
Because if you go about it all wrong… your property won't earn what it could or, worse, it could turn into a real money pit…
When you do it right, though —and that doesn't require a huge investment in time or money—a vacation rental can easily pay for itself (and then some) and deliver your overseas dream to you, starting right now…  CLICK HERE TO LEARN MORE